The 22nd China (Shanghai) International Motor Expo and Forum 2022
 undertaken by Guohao Exhibition (Shanghai) Co., Ltd. and Guoliu Electromechanical Technology (Shanghai) Co., Ltd. 
On July 13-15, 2022, it will be held in Shanghai New International Expo Center. It is hoped that through the holding of Shanghai Electric Motor Exhibition, the market development and development of the electric motor industry will be better, and the cooperation between electric motor enterprises, supply enterprises and supporting product companies will be promoted.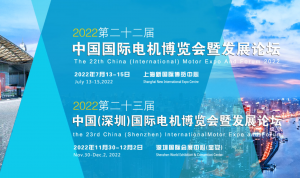 The 23rd China (Shenzhen) International Motor Expo and Forum 2022 will be held in Shenzhen International Convention and Exhibition Center from November 30 to December 2, 2022. Taking advantage of the development opportunity of the Guangdong-Hong Kong-Macao Greater Bay Area, we will build a broader platform for the market development of China's electrical motor industry.     "2022 China Motor Exhibition" (abbreviation: MOTOR CHINA)–the purpose of holding the motor exhibition is to continue to serve the motor industry and promote the sustainable development of the industry. Make full use of the "two-in-one" model of professional exhibitions and trade exhibitions, "three-in-one" exhibitions, order fairs, and seminars, and "four business sectors gather together" for manufacturers, distributors, supporting suppliers, and service providers. A model exhibition of the international motor industry with pertinence, technical professionalism, effectiveness, user group, and activity characteristics!
---
Post time: Apr-18-2022